A unique aspect of the Swim Tank experience is our achievement level system.  This system not only tracks and rewards our students' individual progress but it also helps them develop a positive growth mindset.  Badges are recorded onto the student's profile, as they are earned, so both parents and instructors can track the student's individual hard progress.
There are currently several types of lessons at Swim Tank, based on the achievement level of your child.  Children have the opportunity to earn different badges when they master a specific group of skills.  Each badge level has been uniquely designed with a child's physical and emotional development in mind.  As children grow and develop they take on more challenges, achieve more badges, and then advance to higher swim levels.
The objective of this system is to not only reward our students when they reach their goals, but also to demonstrate that time, hard work, and effort are necessary for achievement.  The rewards that come from this mindset are priceless.  When approached positively, this system will instill a positive growth mindset in your children and foster the development of "grit".  For more information about growth mindset and grit please continue to read here.
The best
paypal casinos
lists on Gamblingcomet! Choose your online casino and start to win!
Skill Badges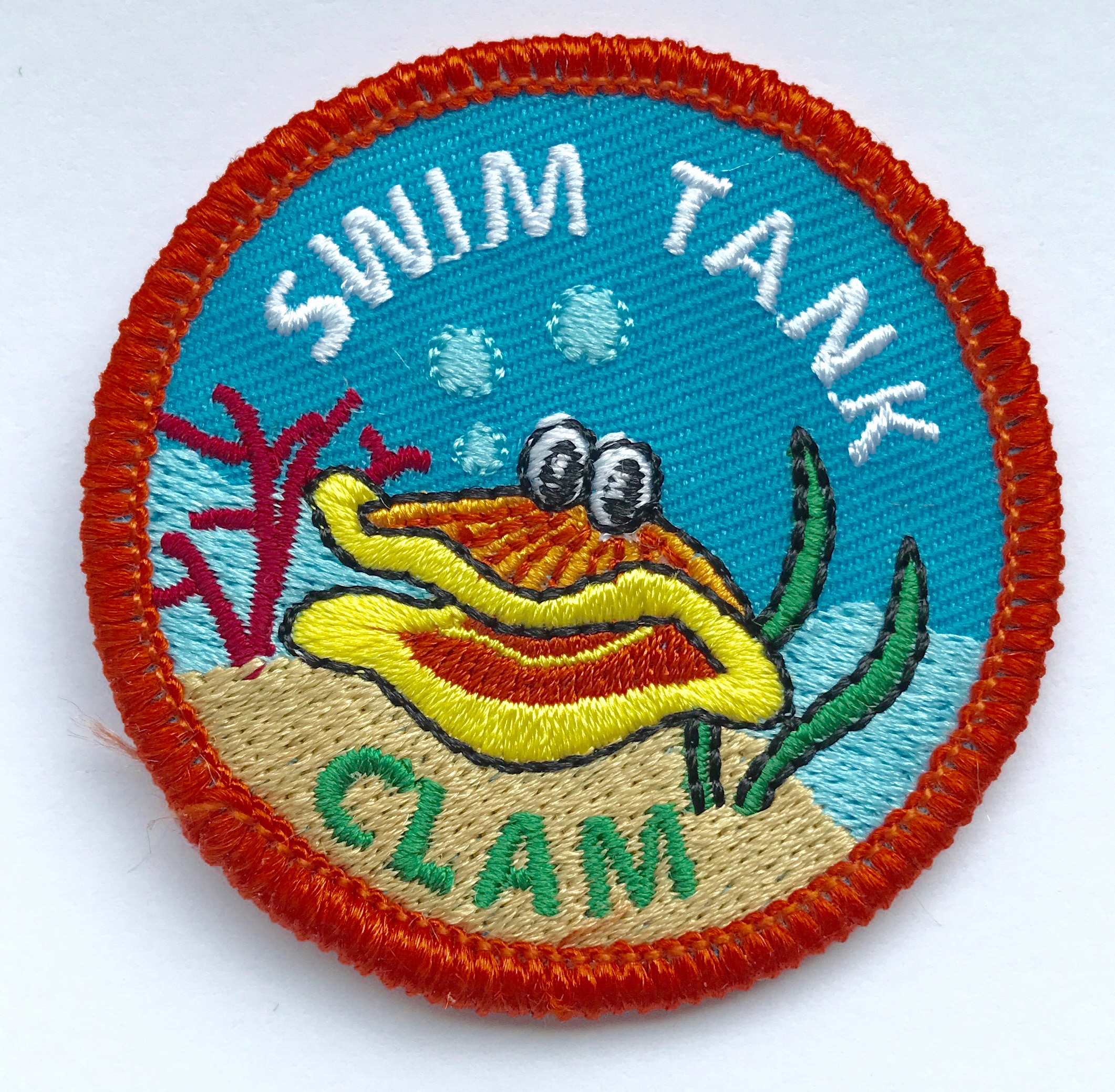 Clam Level
This badge is only given out to Infant/Toddler participants who master the following skills
Waiting to adult participate to say "Ready go" before entering the water
Exiting the pool with little assistance from the adult participant
Using the back flotation device with assistance
Will go for turns with Swim Tank instructors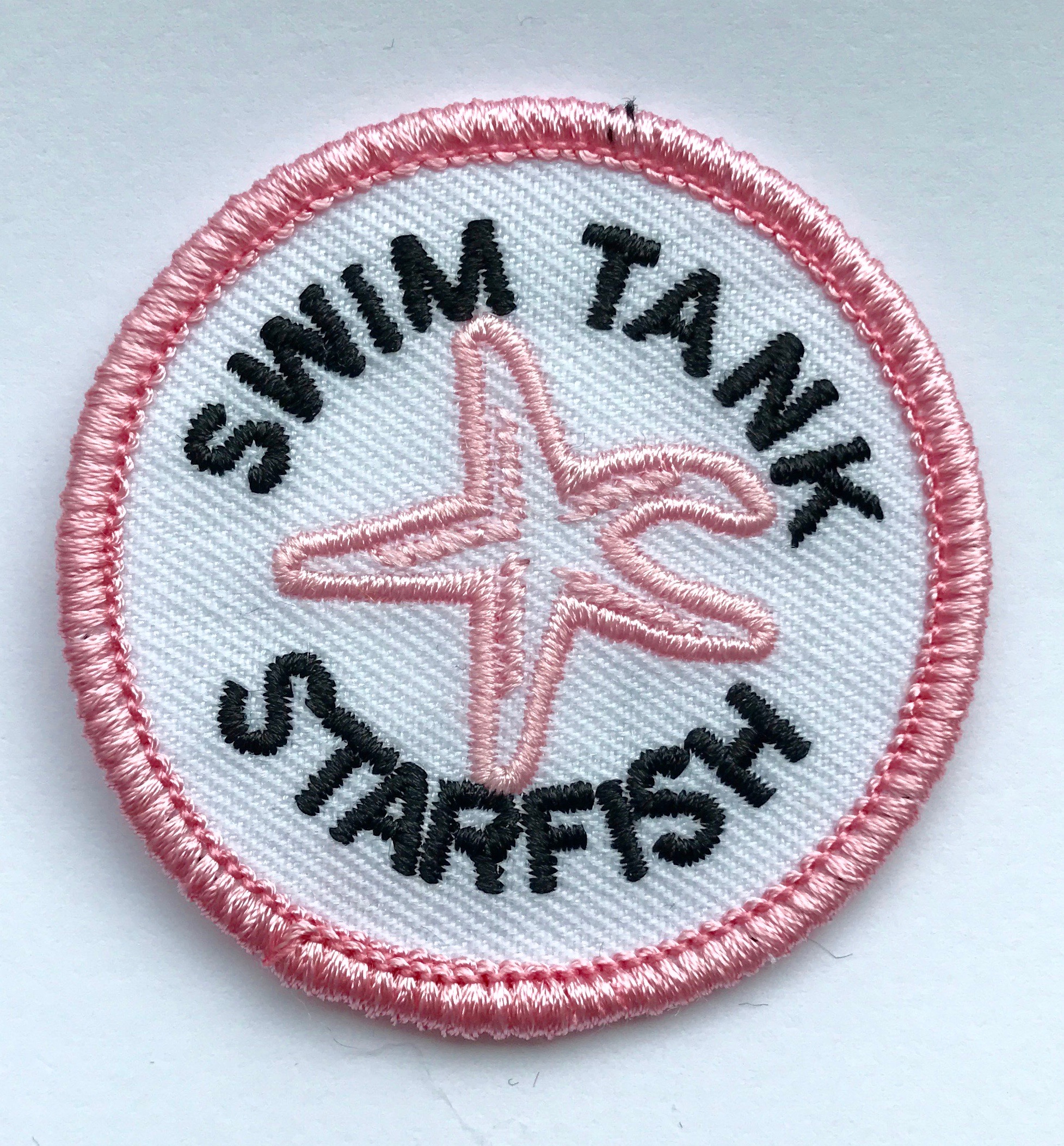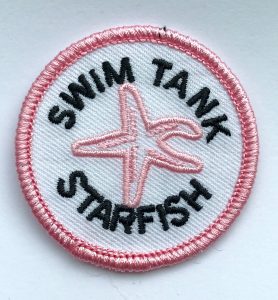 Starfish Level
Student must be able to consistently demonstrate the following skills
Climb out of the pool without assistance
Swim independently using a back flotation device (bubble)
Swim underwater to instructor
Swim to the wall, underwater, with instructor guidance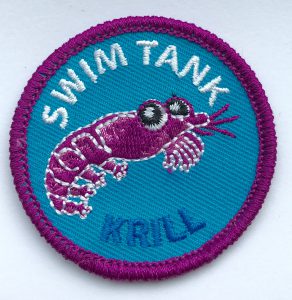 Krill Level
Student must be able to consistently demonstrate the following skills
Swim to wall, underwater, independently from a distance of 5 feet
Swim independently underwater to instructor
Prone water entry (head enters water first while student pushes off the wall with feet)
Maintain prone water entry with underwater swimming for 5 feet to instructor
Float on back with instructor guidance & support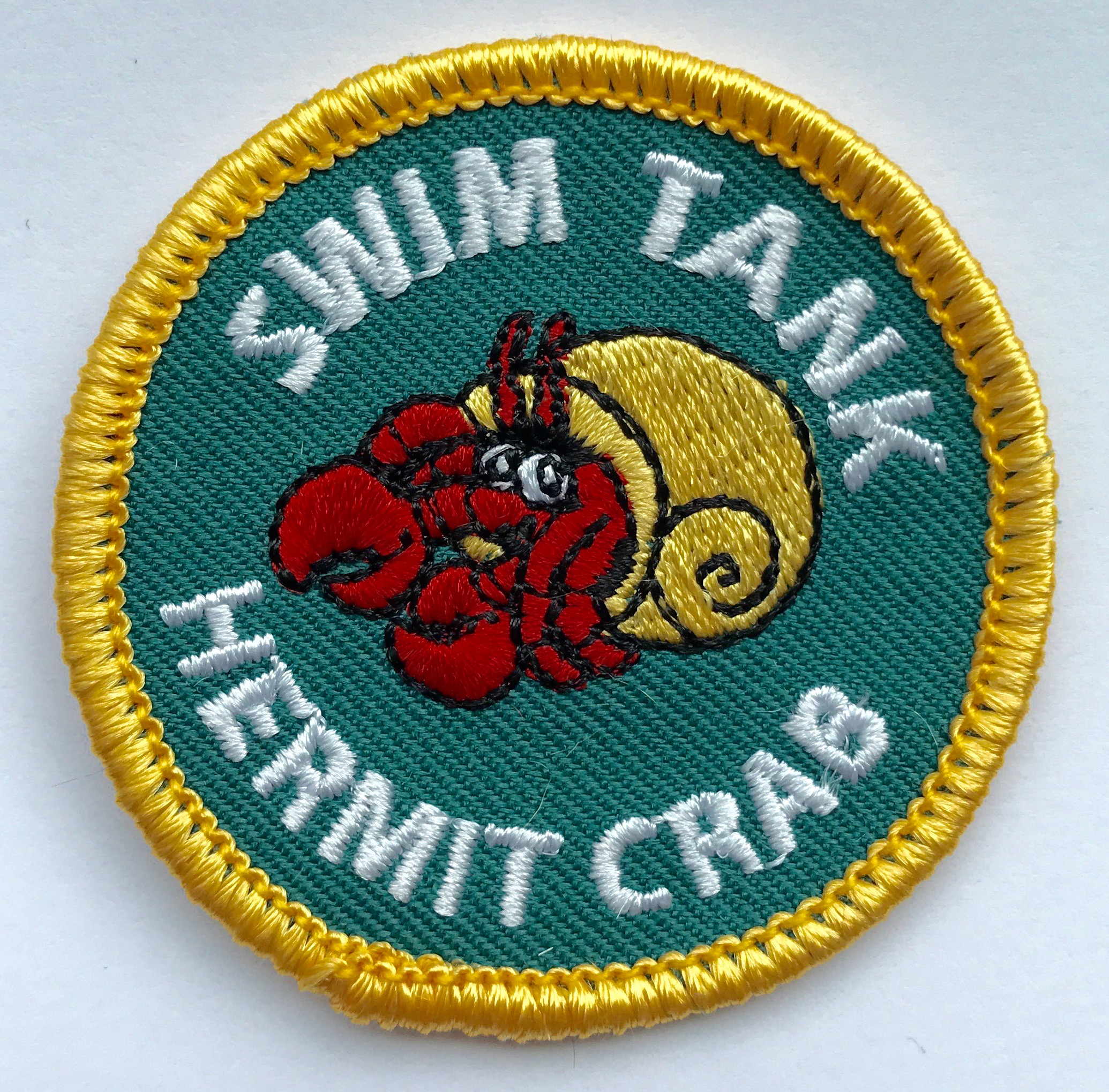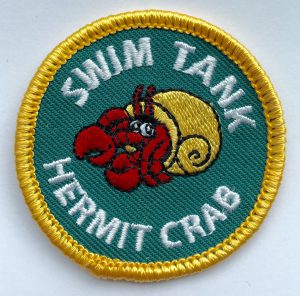 Hermit Crab Level
Student must be able to consistently demonstrate the following skills
Maintain prone water entry with underwater swimming for 10 feet
Swim to wall, underwater, independently from a distance of 10 feet
Float on back with limited instructor support
Transition swimming for 20 feet while using a back flotation device



Transitioning means: able to put your face in the water while kicking your feet up at the surface of the water, and then pick your head up to take a breath before putting your face back in the water again (all while maintaining a prone body position)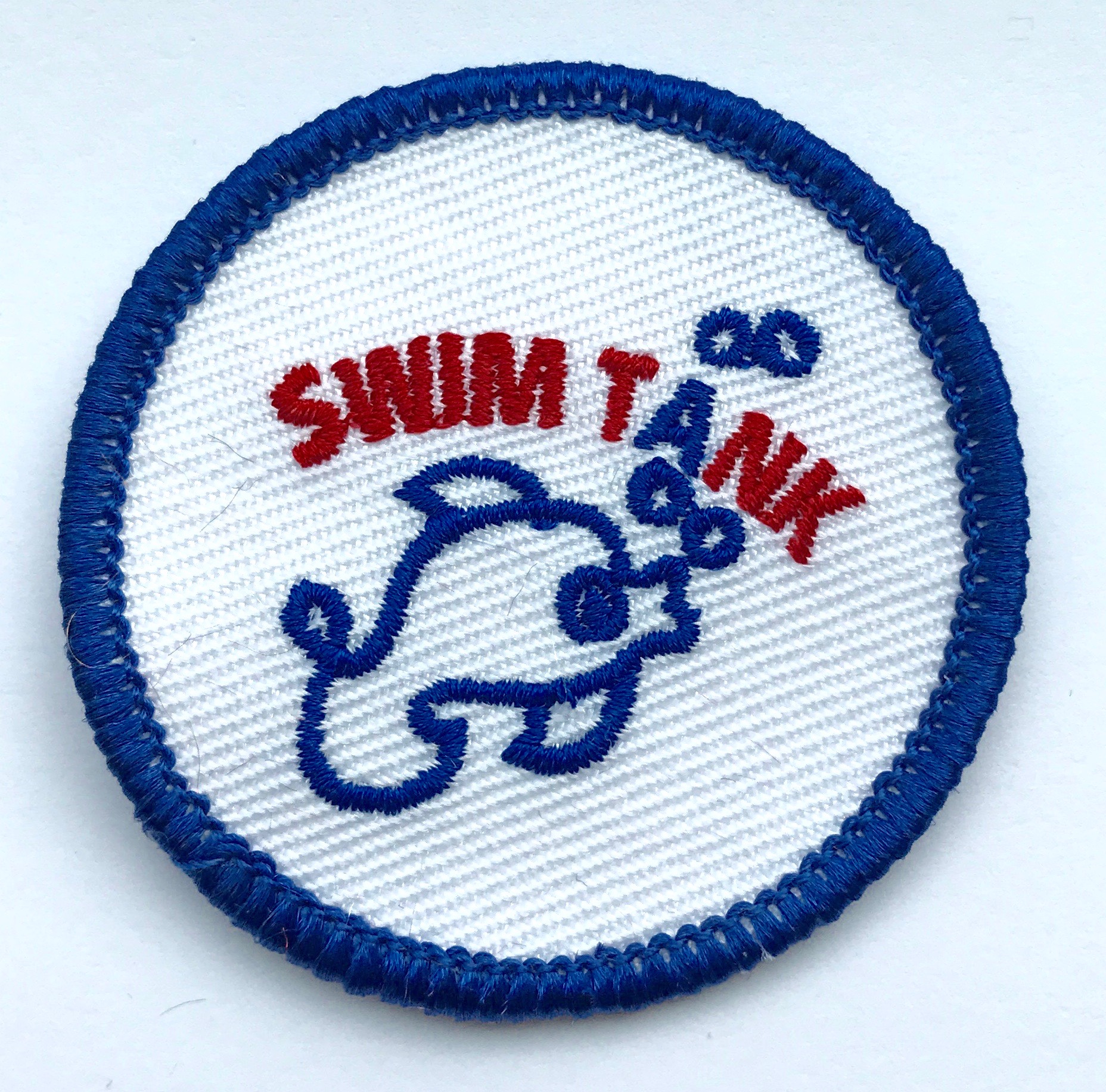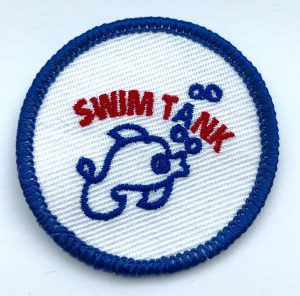 Fish Level
Student must be able to consistently demonstrate the following skills
Swim 25 feet independently with the following guidelines:



No instructor support


No flotation support


Must be comfortable transitioning



Transitioning means: able to put your face in the water while kicking your feet up at the surface of the water, and then pick your head up to take a breath before putting your face back in the water again (all while maintaining a prone body position)
Confident floating on back
Introduction to rolling onto your back in order to breathe or rest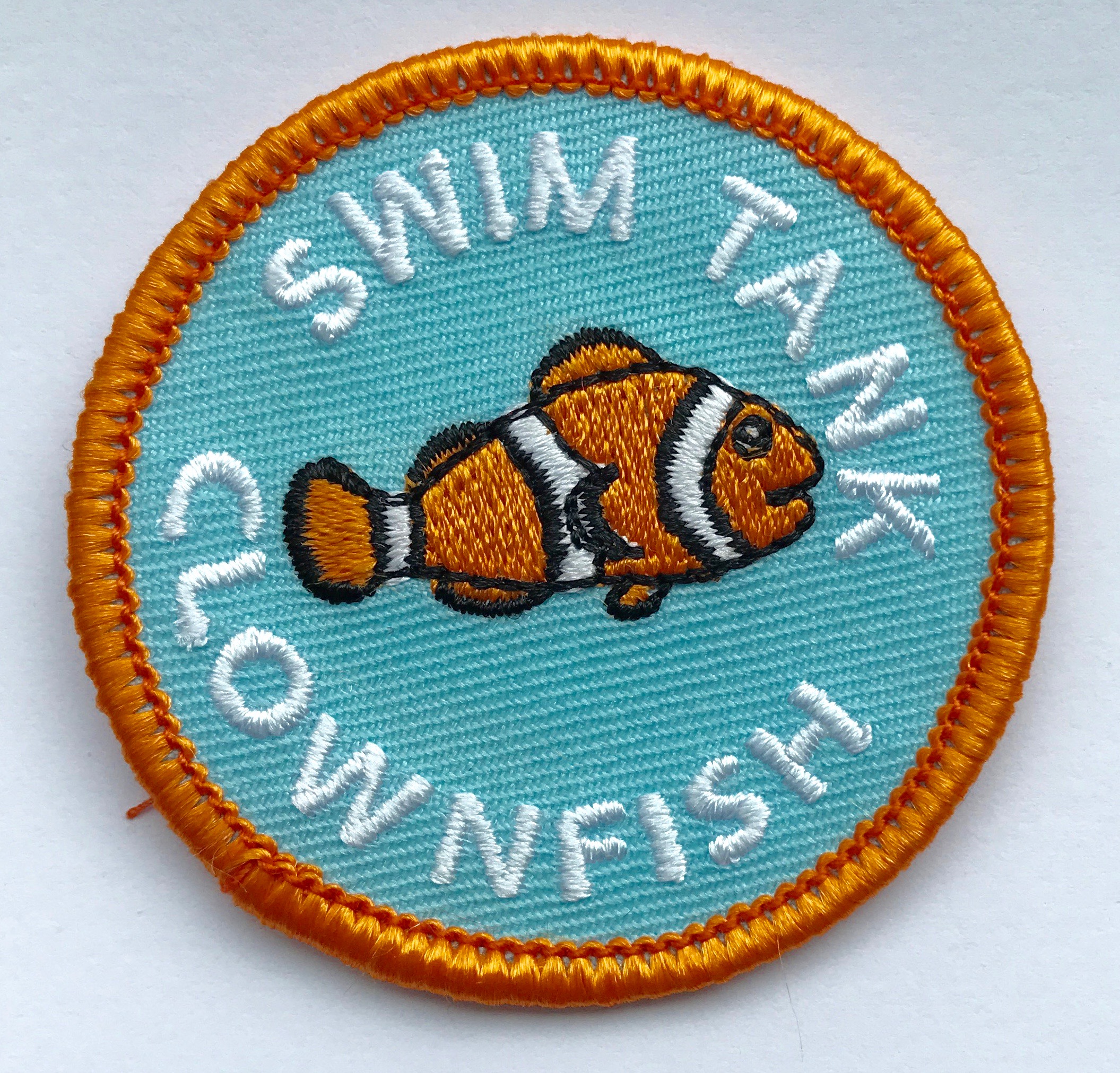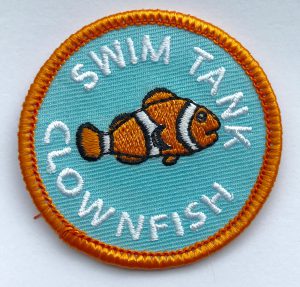 Clownfish Level
Student must be well adjusted and able to consistently demonstrate the following skills before we will award this badge since it qualifies students to advance into the stroke discovery level, which is a 4:1 student to teacher ratio
Must attain Lobster safety badge
Swim independently for 20 + feet with confidence and accuracy
Swim 20 feet with kickboard demonstrating streamline & proper flutter kick
Maintain streamline water entry for 10 feet out to instructor
Swim on back for 20 feet with instructor support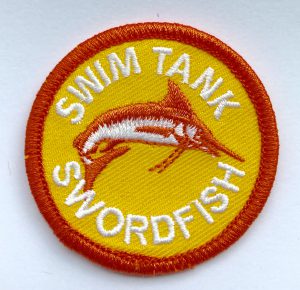 Swordfish Level
Student must be able to consistently demonstrate the following skills
Must attain eel safety badge
4 "big arms" in sequence while swimming in a "face in" prone position

These are the introduction to freestyle arms
Arms must be straight and must rotate in a circular motion from leg to head
"Ear & Blow" with kickboard & instructor support

This is an introduction to side rhythmic breathing where students learn to turn their heads to the side to take a breath and then blow their air out underwater
2 "big arms" roll on back and swim independently for 5 feet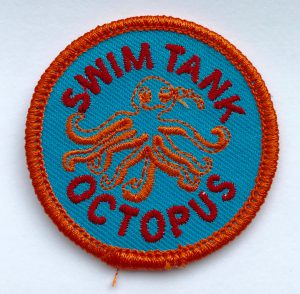 Octopus Level
Student must be able to consistently demonstrate the following skills
Must attain jelly safety badge
Independent "Ear & Blow" with kickboard for 20 to 25 feet
Introduction to freestyle



"2 big arms & ear" starts our introduction to freestyle
Practice rhythmic breathing (breathe to the side & blow air out under water)
Instructors can guide and fully support students, but they must correctly roll their head to the side to breathe
Swim independently on back for 20 to 25 feet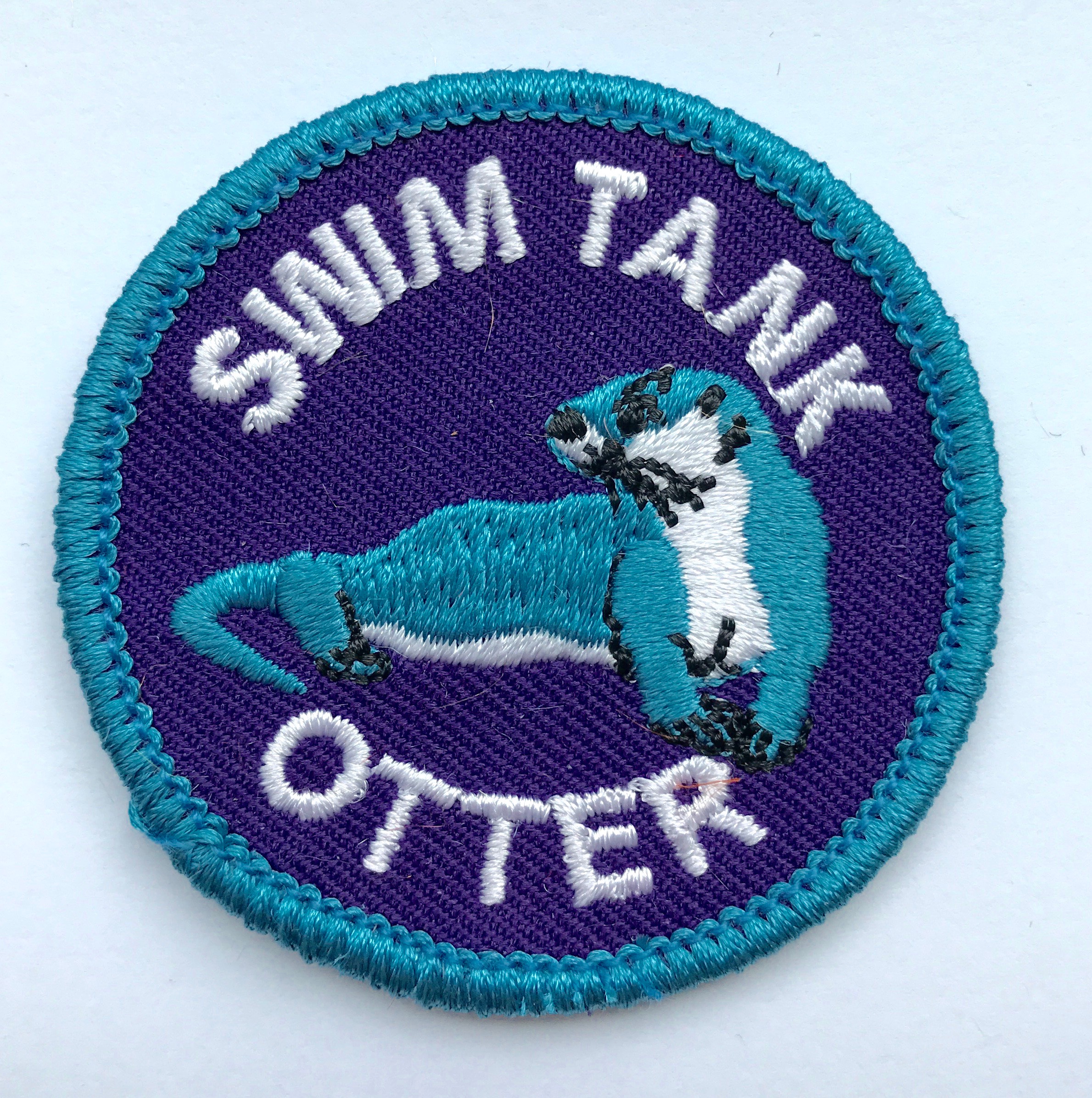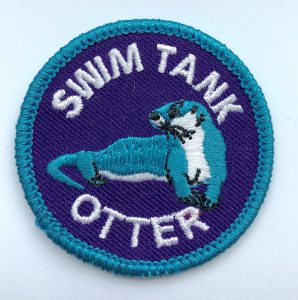 Otter Level
Student must be able to consistently demonstrate the following skills
Must attain Turtle safety badge
Freestyle with limited instructor support



Practice rhythmic breathing (breath to the side & blow air out under water)
Backstroke introduction for 20 to 25 feet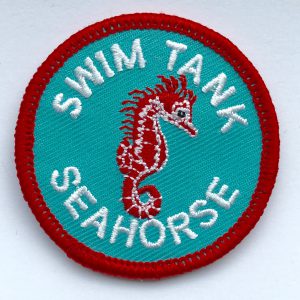 Seahorse Level
Student must be able to consistently demonstrate the following skills
25 feet of freestyle

Independent rhythmic breathing
No "digging" or double pulling
25 feet of backstroke with correct form

Surface flutter kick
Arms must be straight and must rotate in a circular motion from leg to ear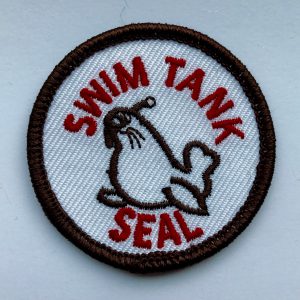 Seal Level
Student must be able to consistently demonstrate the following skills
Must attain Narwhal safety badge
20 to 25 yards (60-75 feet / 1 length of pool) of freestyle

Strong, independent rhythmic breathing pattern
No "digging" or double pulling
Correct body rotation
Consistent flutter kicking
20 to 25 yards (60-75 feet or 1 length of pool) of backstroke

Surface flutter kick with correct body and arm movements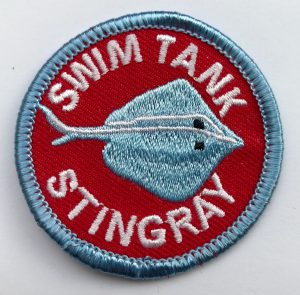 Stingray Level
Student must be able to consistently demonstrate the following skills
40 to 50 yards (2 lengths of pool) of freestyle

Rhythmic breathing pattern with no rotation stalling
No "digging" or double pulling
Correct body rotation
Consistent flutter kicking
40 to 50 yards (2 lengths of pool) of backstroke

Surface flutter kick
Correct arm rotation with palms facing out for water entry & pull
20 to 25 yards (1 length of pool) of elementary backstroke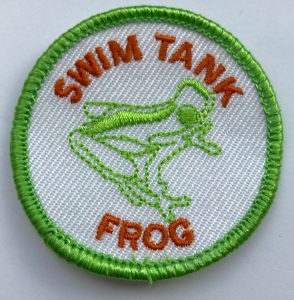 Frog Level
Student must be able to consistently demonstrate the following skills
40 to 50 yards (2 lengths of pool) of freestyle

Rhythmic breathing pattern with no rotation stalling
No "digging" or double pulling
Correct body rotation
Consistent flutter kicking
40 to 50 yards (2 lengths of pool) of backstroke

Surface flutter kick
Correct arm rotation with palms facing out for water entry & pull
20 to 25 yards (1 length of pool) of breaststroke kick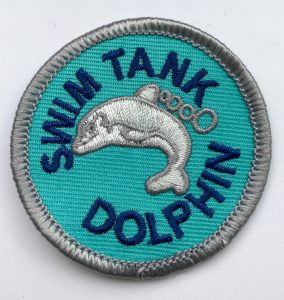 Dolphin Level
Student must be able to consistently demonstrate the following skills
80 to 100 yards (4 lengths of pool) of freestyle
Must now have correct racing arms
80 to 100 yards (4 lengths of pool) of backstroke

Must now have correct racing arms
40 to 50 yards (2 lengths of pool) of breaststroke kick

Kick must be correct and strong
20 to 25 yards (1 length of pool) of butterfly kick

Kick does not have to be perfect, just the concept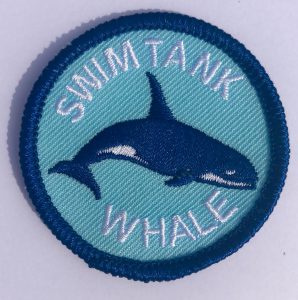 Whale Level
Student must be able to consistently demonstrate the following skills
80 to 100 yards (4 lengths of pool) of freestyle

Must now have correct racing arms
80 to 100 yards (4 lengths of pool) of backstroke

Must now have correct racing arms
20 to 25 yards (1 length of pool) of full breaststroke

Kick, arms, & timing must all be correct
20 to 25 yards (1 length of pool) of butterfly kick

Kick must be correct and strong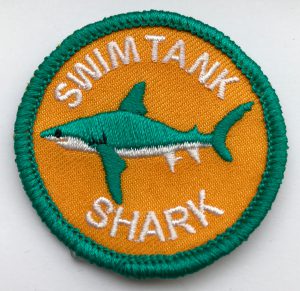 Shark Level
Student must be able to consistently demonstrate the following skills
80 to 100 yards (4 lengths of pool) of freestyle

Must now have correct racing arms
80 to 100 yards (4 lengths of pool) of backstroke

Must now have correct racing arms
40 to 50 yards (2 lengths of pool) of full breaststroke

Kick, arms, & timing must all be correct
20 to 25 yards (1 length of pool) of full butterfly

Kick, arms, & timing must all be correct
Freestyle flip turn
Backstroke flip turn
Breaststroke open turn
Safety Badges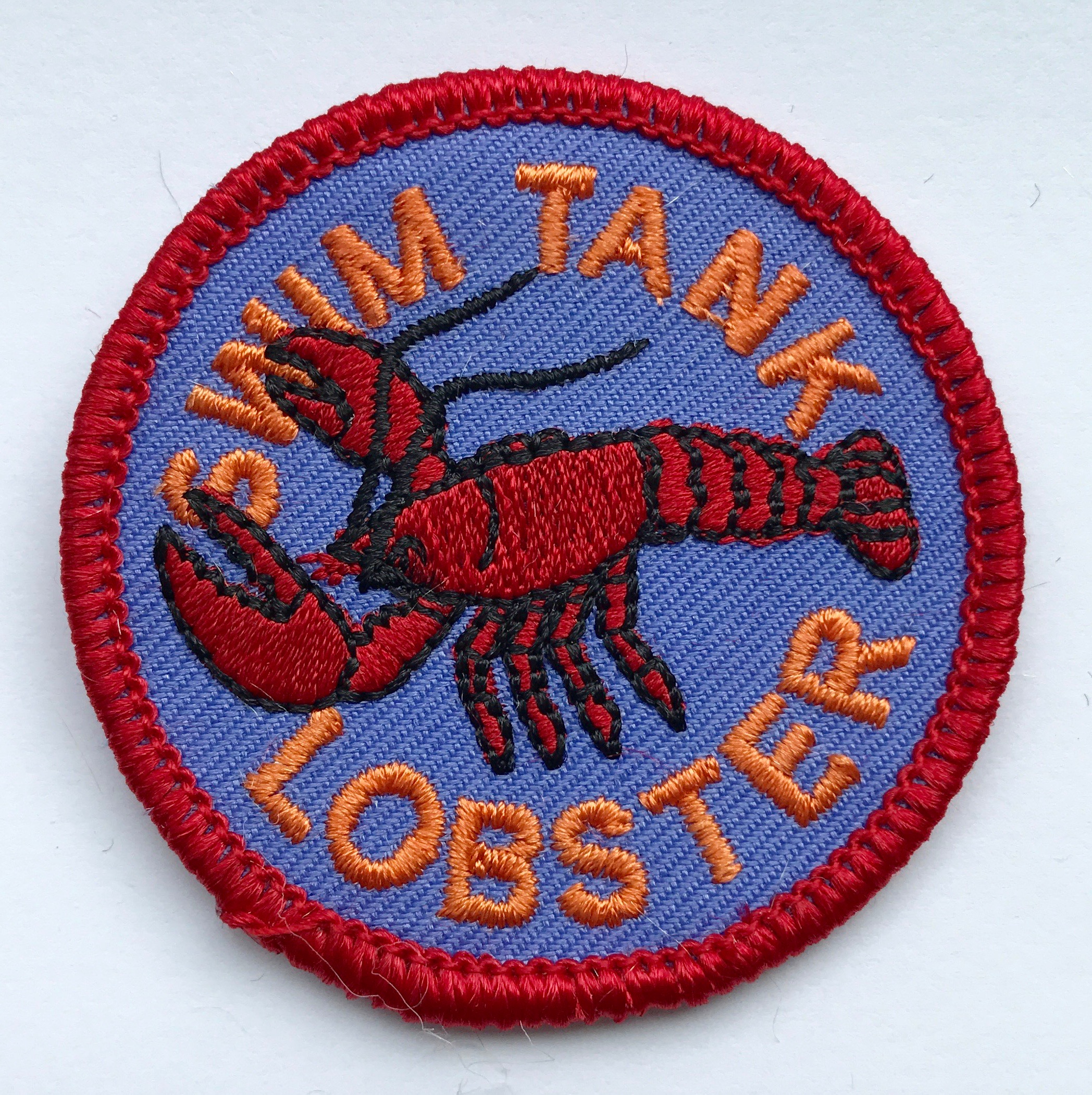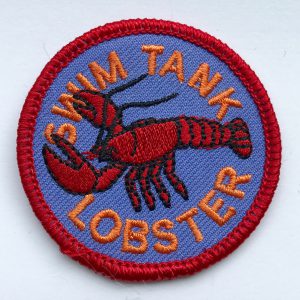 Lobster
Student must be able to consistently demonstrate the following safety skill
Jump into the pool, swim back to the wall, and climb out of the pool



The teacher may assist with the jump, but cannot help the child get back to the wall or climb out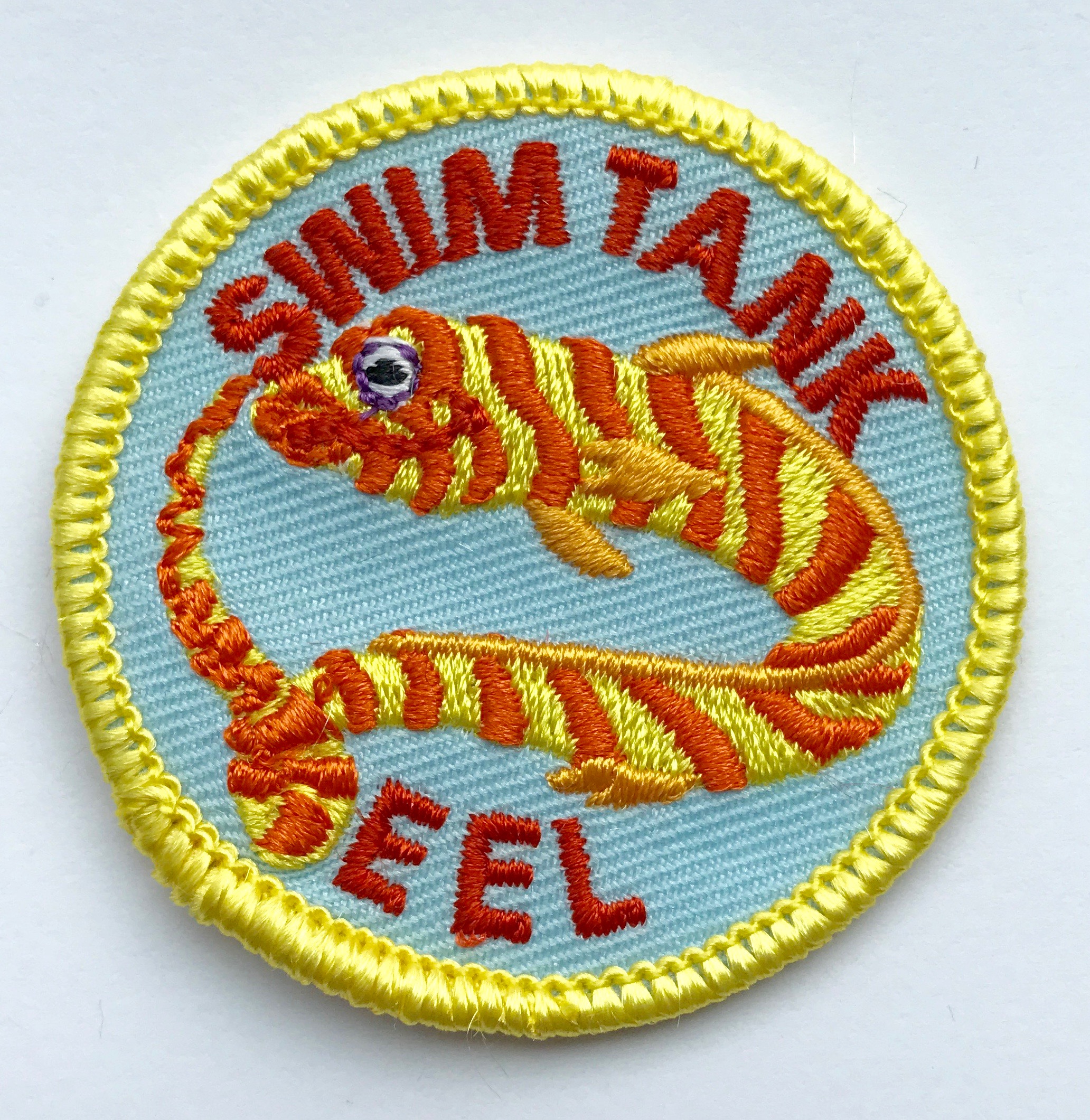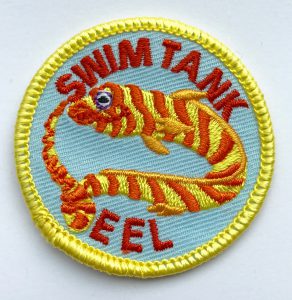 Eel
Student must be able to consistently demonstrate the following safety skill
Tread water for 30 seconds OR Swim across the pool with their head above the water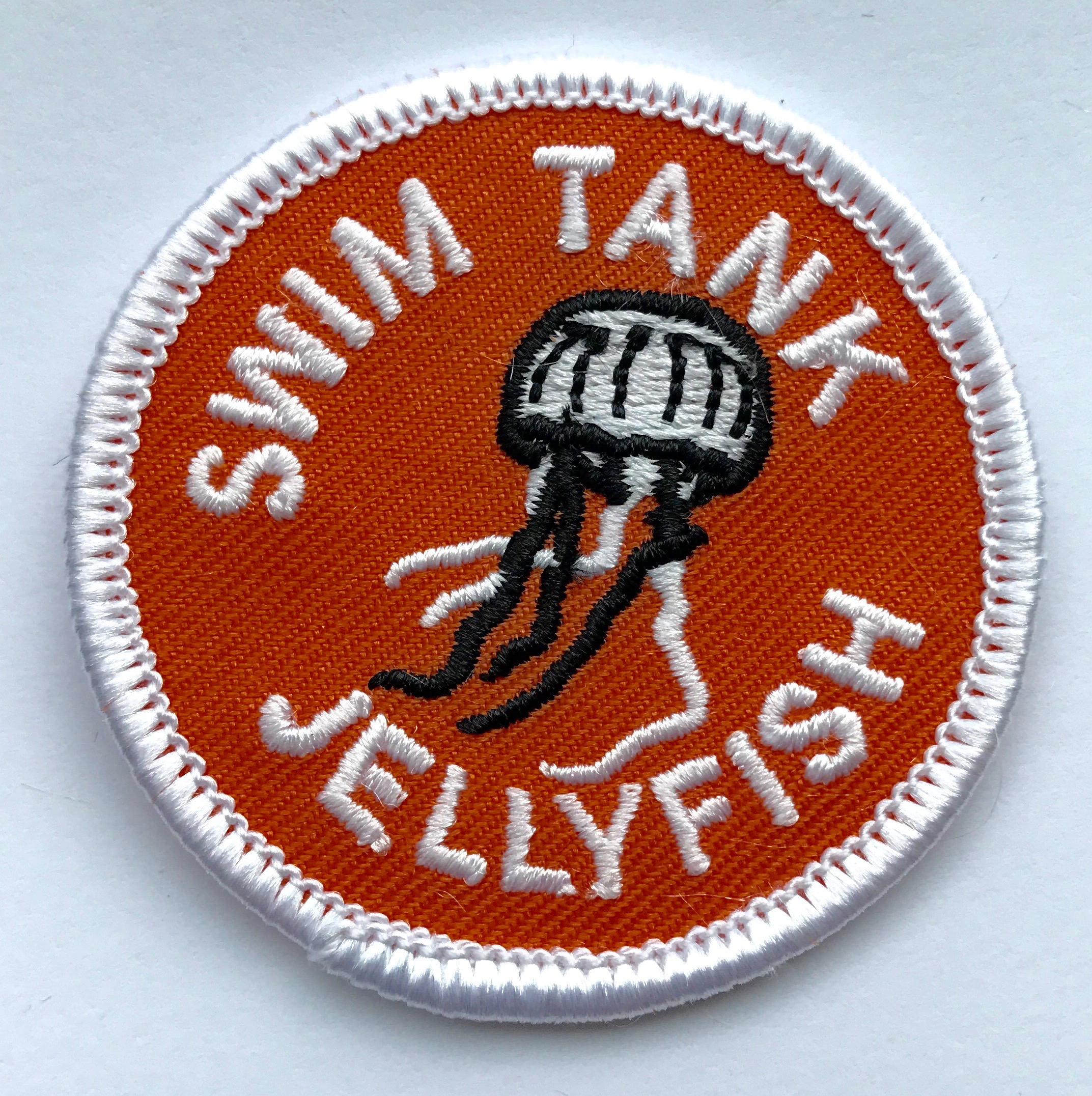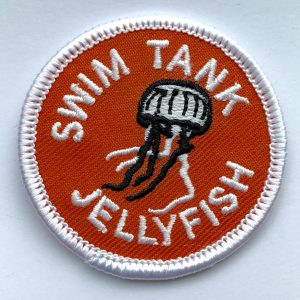 Jelly
Student must be able to consistently demonstrate the following safety skill
Tread water for 1 minute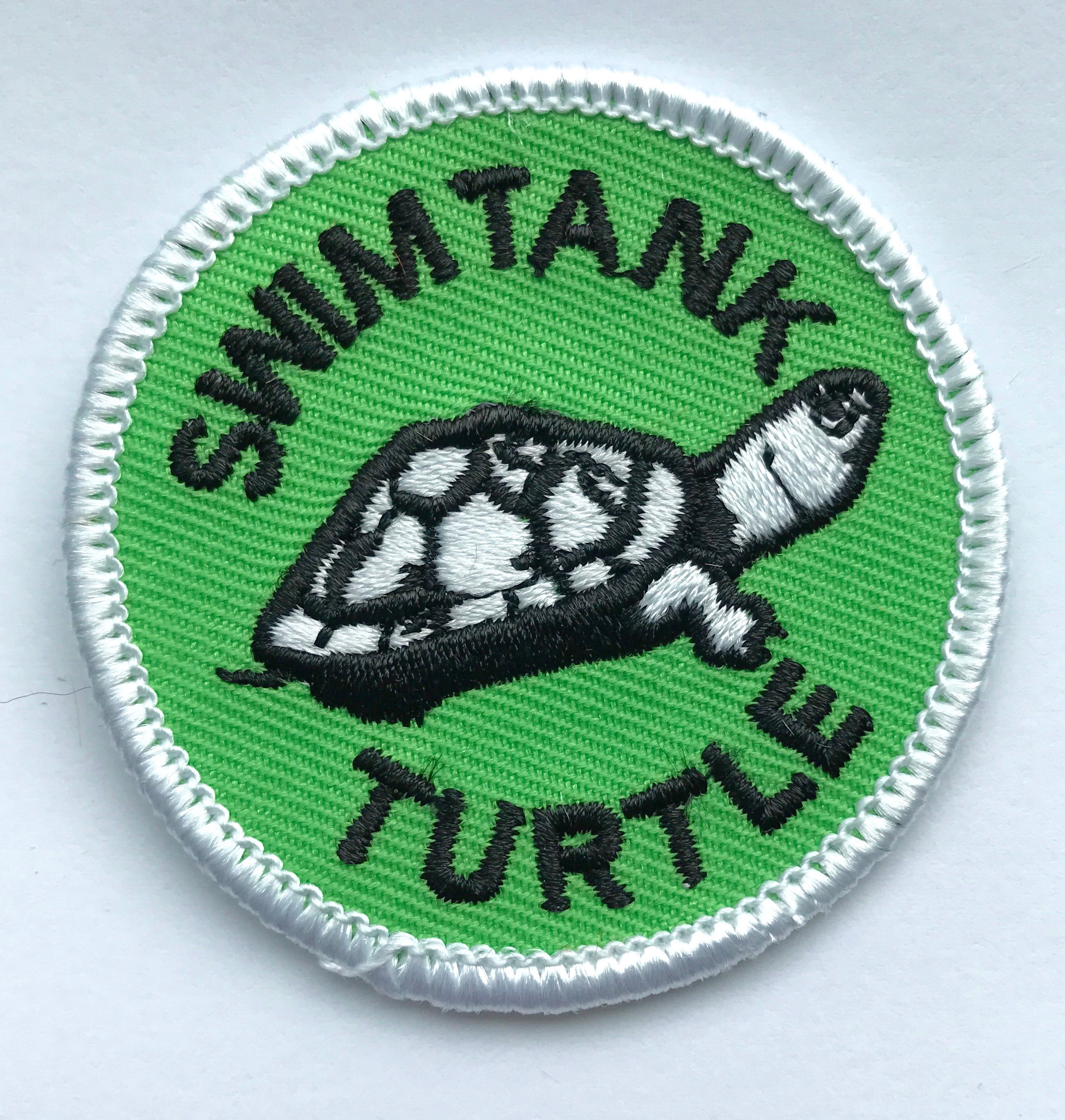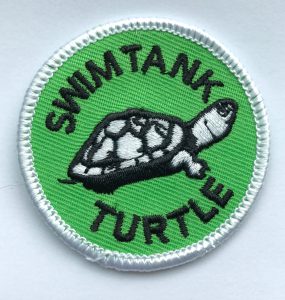 Turtle
Student must be able to consistently demonstrate the following safety skill
Tread water for 2 minutes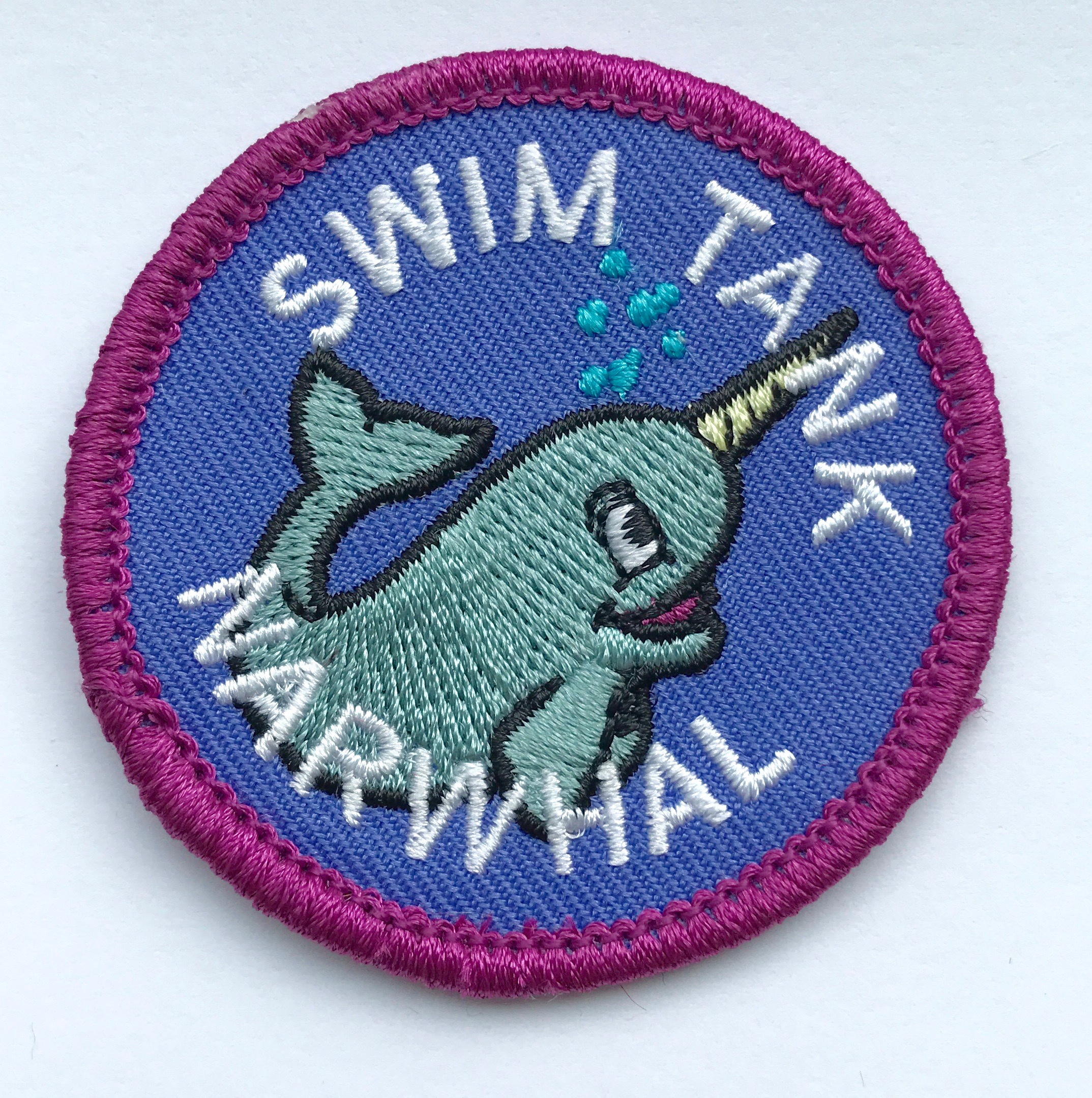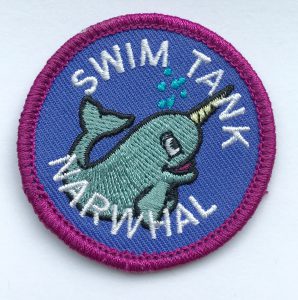 Narwhal
Student must be able to consistently demonstrate the following safety skill
Tread water for 3 minutes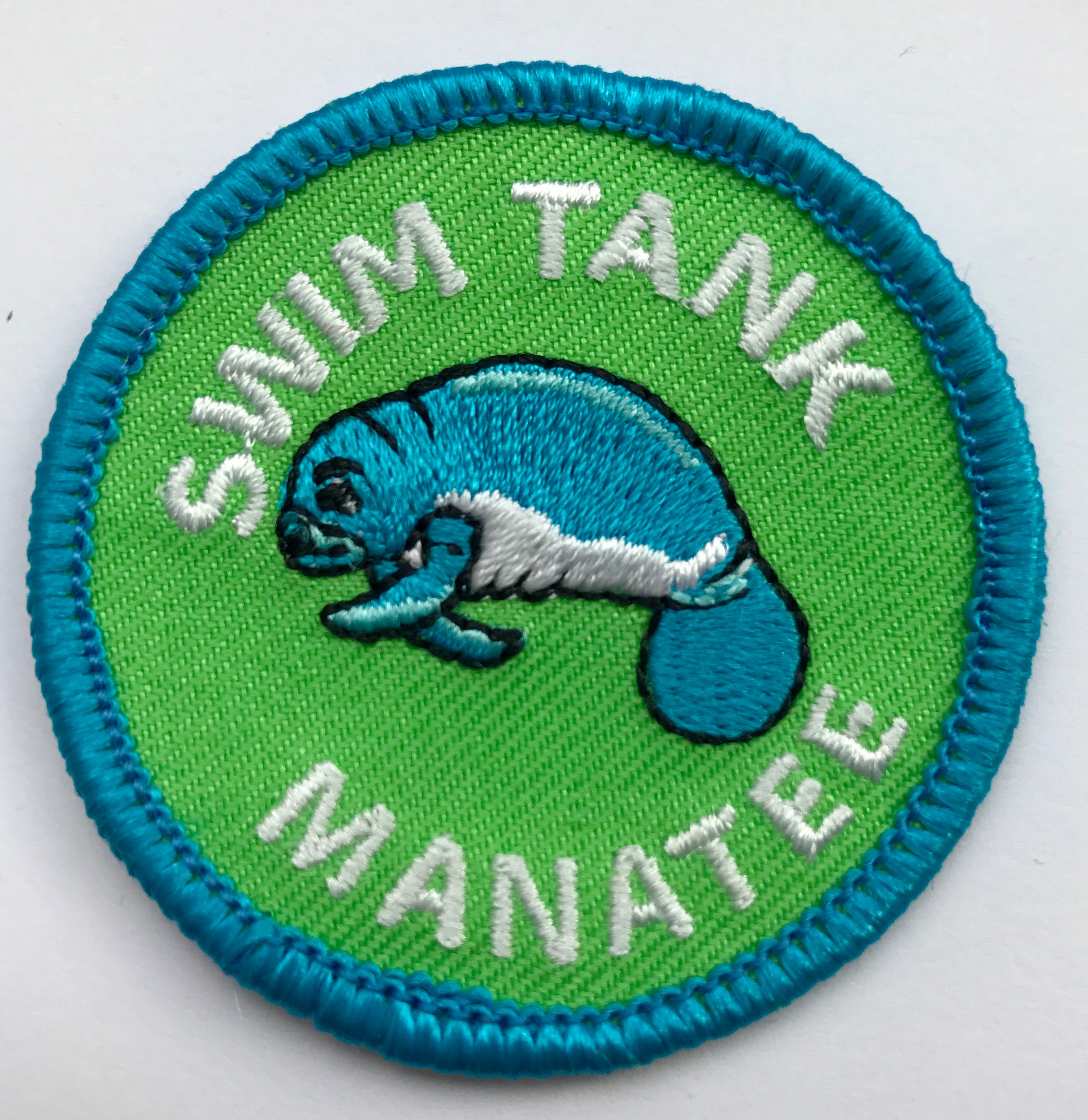 Manatee
Student must be able to consistently demonstrate the following safety skill
Tread water for 4 minutes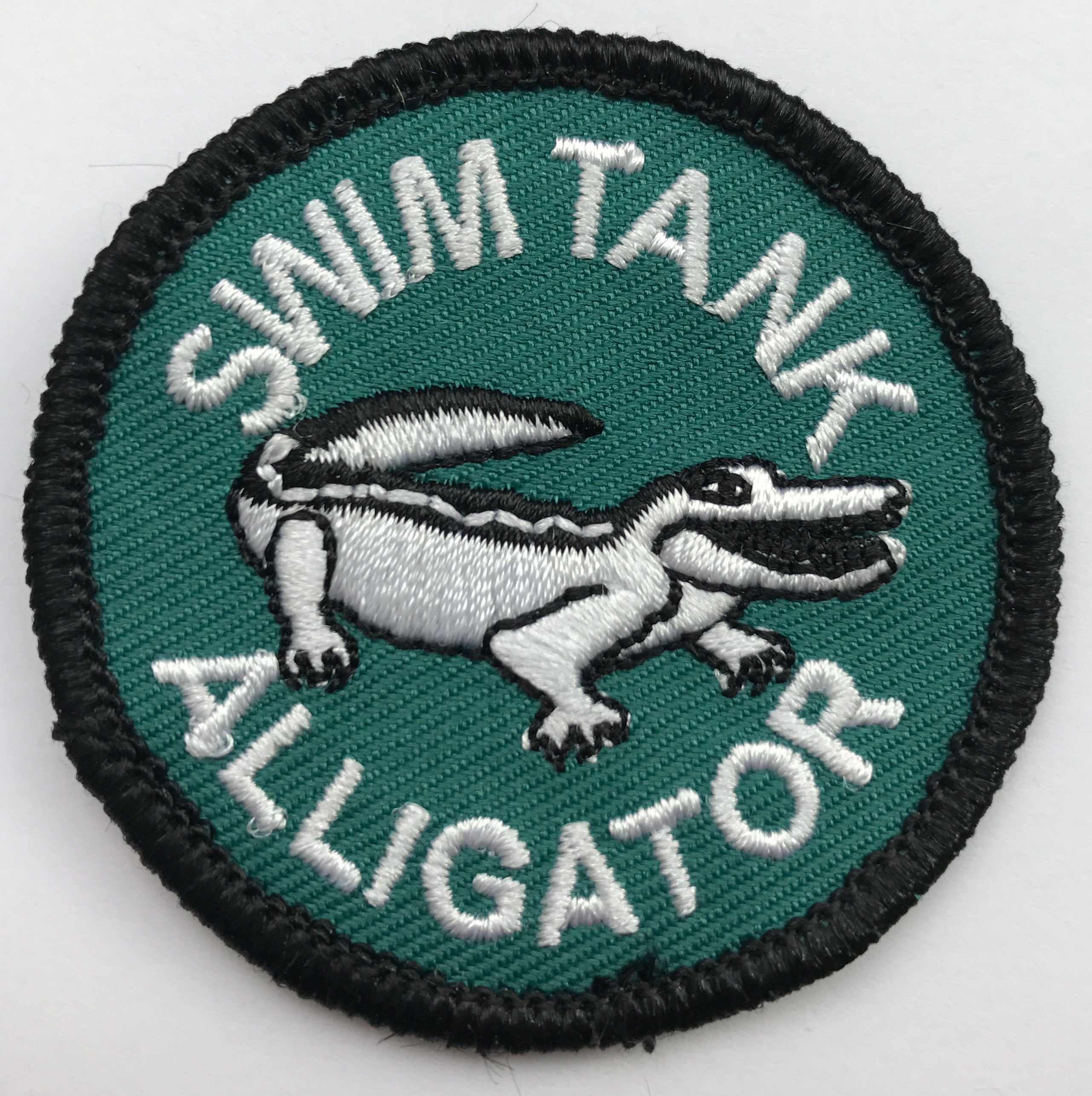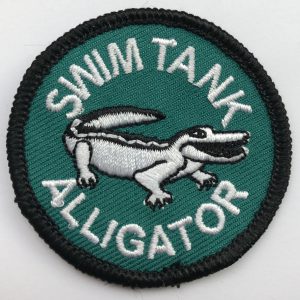 Alligator
Student must be able to consistently demonstrate the following safety skill
Tread water for 5 minutes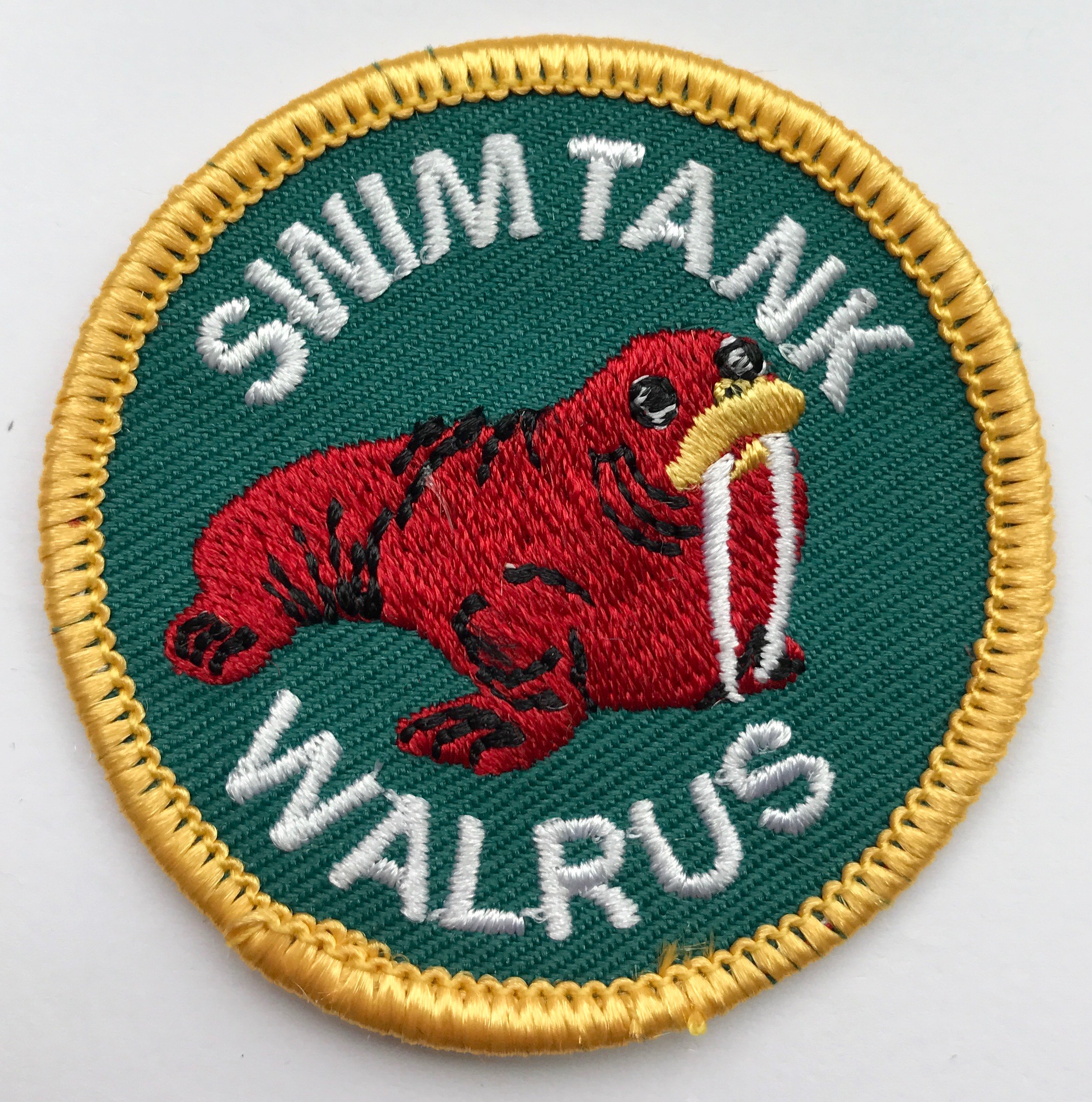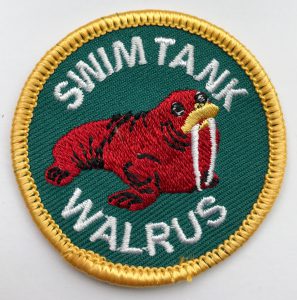 Walrus
Student must be able to consistently demonstrate the following safety skill
Tread water for 1 minute while holding a weight
Must be able to tread water for 1 minute just using your legs – no hands